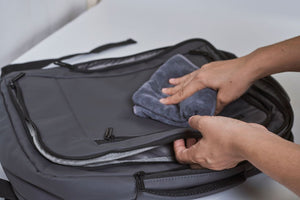 Backpack Care 101: Basic Tips to Keep Your Backpack in Top Condition
Your backpack is a trusty companion, accompanying you on all your adventures and carrying all your essentials. Whether you use it for work, travel, or outdoor activities, it's important to keep it in good condition to ensure it lasts as long as possible. Here are some tips on how to keep your backpack in tip-top shape.
Clean your backpack regularly: Dirt, dust, and sweat can accumulate on your backpack over time, leading to stains and odors. To prevent this, clean your backpack regularly with a damp cloth or sponge and mild detergent. Avoid using harsh chemicals or bleach as they can damage the fabric.
Store your backpack properly: When you're not using your backpack, store it in a cool, dry place away from direct sunlight. Hanging it up or storing it flat are both good options, depending on the size and shape of your backpack. Avoid folding or compressing it as this can damage the shape and structure.
Protect your backpack from the elements: If you're using your backpack for outdoor activities, consider investing in a rain cover to protect it from rain and moisture. If your backpack doesn't come with a rain cover, you can purchase one separately or make your own using a plastic bag or shower cap.
Check and repair any damage: Regularly check your backpack for any signs of wear and tear, such as frayed straps or holes in the fabric. If you notice any damage, repair it as soon as possible to prevent it from getting worse. You can either sew it yourself or take it to a professional repair shop.
By following these simple tips, you can keep your backpack in great condition and ensure it lasts for years to come. Remember to treat your backpack with care and it will reward you with many more adventures to come!
---
About the Author
Wolph UK
We bring you informative sports & travel tips, to help you stay active and achieve your lifestyle goals.