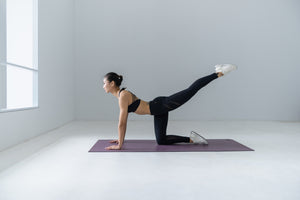 WHAT YOU NEED TO KNOW ABOUT DOING PILATES AT HOME SUCCESSFULLY
Do you think that Pilates can only be performed using reformers or at a studio with others? Do you fear that it won't be effective if done individually at home? Period….in actual fact, the successful practice of Pilates depends on the equipment being used and the aims you wish you achieve. We are here to help you make the most of your time whilst doing Pilates at home.
According to experts, it's the technique and comfort of this unique fitness style that makes it healthy regardless of where it is being performed. The Internet is full of tutorials about Pilates. For instance, simple guidance has been made available at Fitness Studio by NHS for you to learn more about different Pilates techniques and some aren't going to advise how to perform Pilates. Let us take a look below to see how to get the best out of your routines:
Peace of Mind
As always, we must remember,  the mission is that of balance; "Body, Mind and Soul ', Pilates is known to improve mood and body awareness. Research published in Physiology & Behavior journal has shown that even a single Pilates session every week improves moods in women. And in the words of T.S. Elliot, 'home is where one starts from' when looking for mental focus. 
Doing Pilates at home combines the tranquility of being at home and helps in keeping the emphasis on your body's core (abs, obliques and lower back muscles). No one to judge you at home, with no need to engage in overblown moves and obviously, it saves a lot of time also. All you need is a subscription to a virtual class with guidance from an instructor, appropriate equipment or access to suitable lessons online to get you going.
Equipment for Doing Pilates at Home
Unlike yoga, Pilates involves a flow of certain movements. It is either the bands, springs or simply a mat that helps you achieve the best results while doing Pilates at home. Your level of fitness and ability define what kind of equipment should be used? 
The traditional apparatus involves Cadillac, Wunda Chair, Spine Corrector or Ladder Barrel, etc. Meanwhile, Pilate rings, hand weights and stretch bands could be used while doing Pilates on a mat. The choice depends on your capacities and targets. And even without any form of equipment, you can maneuver with your body weight to tone your muscles during Pilates at home.   
Workout Clothes
The tighter the clothes you wear during Pilates, the more pleasant it will feel throughout the session. Quality -not the quantity- of movements, your breath and contraction of muscles remain central in Pilate practices. Tight clothing would help you to continuously monitor the alignment of your muscles and body. And you wouldn't want to slip during the session or get your sweat pants bunched up while doing Pilates at home. 
Pilate practices are slow, controlled, and deliberate; they do not burden you with all the must-haves when you are doing these at your place. Just get the most comfortable sportswear, and you are set to perform.
Expected Results
Just as the equipment, Pilates exercises have to be modified according to your needs and abilities. Don't get intimidated; nothing is perfect – it has been scientifically proven by The US-National Center for Biotechnology Information that Pilates is effective for not only fitness, but also rehabilitation for those recovering from physical immobility or prolonged inactivity. It may however take some trial and error to find the best method, type and style for doing Pilates at home. 
So, Just settle yourself in a well-lit spacious area and put on your favourite music to get in the vibe. Research has shown that it is better to perform in front of a mirror; however, it's not that critical but still recommended. 
No matter how much time you have spent, always remember that you are helping yourself physically and mentally while engaging in any mind-body workout (like Pilates). For motivation, in simple words, any exercise helps in keeping you
fit and smarter
.
---
About the Author
Qurat Shahzad
Qurat-ul-Ain is a dedicated writer who likes to write anything and everything.