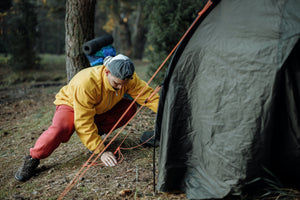 5 TIPS ON FINDING THE BEST CAMPING SPOTS
You might have seen those wonderful posts of camping on social media and heard stories of wild bears, but that isn't all. There are a lot of struggles when it comes to camping. From finding a comfortable sleeping spot to the basic necessities, everything requires preparation and planning.
While there are things that you can't possibly plan, it is essential to know how to find the ideal camping spot so that you have a base before you start all the fun.
Tips for finding an ideal camping spot
Here are 5 tips on finding the best camping spot:
Choose your location the old fashioned way
Scouting always works best when you do it the old-fashioned way. Use a map and ask the locals. The best bet is not to camp where there are crowds of people; instead, go on a day hike. As you go, be on the lookout for the perfect spot.
Alternately, you can try the digital option; if you search for 'camping spots near me' or 'places to camp near me', you will find heaps of mainstream options that are ideal for beginners.
The first thing indication of an ideal location is a flat, levelled ground with no slope or uneven areas. Trust us when we say you really want a flat, smooth ground for a good night's sleep. Check the surface to make sure there is no debris, roots, branches or any other sharp objects in the way. Obviously, if there are small bumps and bends, those can be tolerated.
Sun and Shade
Surely the main consideration is to look for a spot with stunning views yet one that is safe too.
Depending on the season, sun and shade are vital elements ensuring a comfortable camping experience. In the cold and windy seasons, you surely want a spot that gets a few hours of direct sunlight. Opt for large hedges, fences and trees as they offer protection from the heavy and fast wind.
Place your tent in a direction to keep yourself toasty and warm. Always face the sun while you have the chance. However, at the peak of summer, trees are such a big blessing. Huge trees and large rocks can block the sun's rays from making you all sweaty and thirsty.
Basic necessities
If you don't want memories of a terrible experience, then consider planning in advance for the basic necessities. Think about your access to clean water and food when choosing the camping spot. It's always a great idea to have camping sites with fishing allowed nearby.
Don't go hunting for wild berries and animals. Respect the laws of the outdoor world. Minimize your impacts as much as possible and leave no trace behind.
The worst part about camping is when you have to go to the washroom in the middle of the night. Who wants to disturb the beauty sleep of creatures in the bush nearby? If possible, consider having a spot with convenient access to the loos — but be environmentally friendly!
Never forget the 200 foot rule!
Set up your tents 200 feet away from everything! Keep away from water bodies to avoid any waste disposal. Store food at a distance from your spot in case an animal gets hungry.
If you are on an established camping ground, then keep a gap between you and the trails — unless you want unwelcomed hikers and campers, of course. The 200 feet rule is most critical for the toilet; you don't want to see, hear, or smell other people using the loo, right?
Trees can be scary
Although trees do provide shelter and a cool spot to relax under, there can be a danger too. Pay close attention to the health, height, and type of trees around. Unhealthy, dead trees can always crash down during a windstorm. Stay away from such trees to keep yourself and your tent safe.
Never sleep under trees that have some fruit. Those coconuts and date palms could take you straight from your sleep to the hospital. If you're out in the winter season, avoid sleeping under trees that catch snow on their leaves. This snow can fall onto your tent and cause damage or spills.
Also, healthy trees are a must if you love hammocks. You'll need strong, sturdy trees to support your hammock in position.
But in the end, always remember the saying that 'good campsites are found, not made'. The reason for this escape is to enjoy nature and the environment. So try to keep it as beautiful for others.
---
About the Author
Qurat Shahzad
Qurat-ul-Ain is a dedicated writer who likes to write anything and everything.