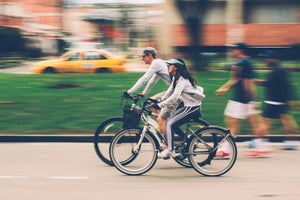 TOP 4 HEALTH BENEFITS OF CYCLING
Dr. Clare E. Safran-Norton, who is a remarkable clinical supervisor and physical therapist at the Brigham and Women's Hospital, says cycling is extremely beneficial for health.
Given her expertise in the field, it's safe to assume she knows a thing or 2 about fitness and health!  The health benefits of cycling are not just for the young but also for the elderly as well.
Health benefits of cycling
Here is a list of some cycling benefits that will motivate you to grab your bikes now.
Cycling boosts your immune system! 
Cycling and ill health are incompatible - the more you cycle, the fewer sick days you need. According to a study, people who rode a bike for at least 30 minutes every day for 5 days a week had taken far fewer sick leaves compared to people who did  not engage in any kind of physical activities as part of their daily routines. Conclusively, if you cycle your way to your workplace, you are more likely to lead a healthy life. Isn't that great?
Cycling is just the right way to deal with obesity!
If you find yourself struggling with obesity and a million other diseases it welcomes into your body, cycling is most likely to help you fix all your problems. According to a study conducted by the faculty of health and sciences at the University of Copenhagen, obese people can lose and burn fat just as quickly with leisure cycling as they are likely to do with intense workouts.
While vigorous exercises require a good amount of time and commitment throughout the week, cycling is pretty fun and effortless. This might be the right time to ditch those long workouts and switch to cycling as your daily mode of transportation, it will help keep the fats and health in check. 
Regular cyclists have healthier lungs than motorists. 
Dr. Ben Barratt, air quality science professor at King's College London, said cycling helps you in creating less air pollution and also saves you from toxic fumes that most motorists  are  exposed to. 
According to another study by the healthy air campaign, King's College London and Camden council, it was proven that cyclists and people who travelled on foot were exposed to cleaner, fumes-free air in comparison to  car owners. Automatically, when you breathe in cleaner air, your lungs stay in good health. 
Depression and anxiety can also be treated with cycling! 
Yes, the benefits of cycling are not just limited to physical health. It is also often used as a therapy for mental health disorders, such as depression and anxiety. The therapeutic benefits of cycling were proven by research conducted by the Alameda County Study.
They examined people going through depression and people who were not, to draft out a correlation between their mental health and their physical activities. Conclusively, those who were physically active had less or no signs of depression, so if you find yourself going through repetitive depressive periods, it might just be the right time to try out cycling.  
Hopefully, the potential health benefits you stand to gain from cycling are sufficient to convince you to get that bike and hit the road or get you back into the routine, if you had been on hiatus. Now all you have to do is wear a helmet and get going. Best of luck with your cycling journey! 
---
About the Author
Qurat Shahzad
Qurat-ul-Ain is a dedicated writer who likes to write anything and everything.