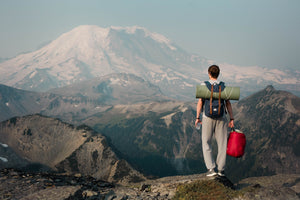 HIKING ESSENTIALS YOU ABSOLUTELY NEED FOR YOUR NEXT TRIP
If you're in doubt about what to take on a trail, know that some basic items can't be missing. Whether for a short, one-day trail or for long crossings, the equipment we list below is all hiking essentials.
The list we have compiled is based on the "Ten Essentials" (Ten Essentials), a term created and disseminated in the US to refer, guess what, to the ten essential items to take on a trail.
There are numerous variations of the "Ten Essentials", according to the preferences of each hiker and the recommendations of different entities. We have based here on the American Hiking Society's list, which we feel is complete and adequate, and we have made a few additions.
Hiking essentials list
So, read the list below well and remember: it may seem like a lot of work, but it's better to take these items with you than to miss them during an emergency.
Comfortable and waterproof shoes
Let's clear something up right away: it's not a good idea to wear new shoes while hiking!
Footwear must be worn, comfortable, lightweight and suitable for the type of terrain on the course. If you are hiking in the mountains on an uneven trail with slopes, it is preferable to opt for boots with good traction and cushioning capacity.
If the course takes place on flat, uneven terrain, soft and flexible shoes with good ankle support are a suitable option. For the end of the day or for crossing streams, it is important to consider some slippers or walking sandals.
Appropriate clothing for each route
The clothing must also match the weather and the type of trail and, above all, must allow for complete freedom of movement.
In the case of a mountain trekking, several superimposed layers are necessary, as the temperatures drop a lot at nightfall. The first layer of clothing, worn in contact with the skin, must be breathable and be able to eliminate perspiration. The second layer is intended to heat up.
Afterwards, if it is rainy weather, a third waterproof layer is essential, such as a waterproof jacket and over-pants.
To prevent blistering, the trick is to take several pairs of socks to change regularly. And it may even be necessary to wear a hat or scarf on sunny days, or a hat and a pair of gloves for hiking at altitude or in winter.
One last piece of clothing advice: Wool garments are a great choice. Why? Because its antibacterial action effectively reduces odours, because it dries quickly and manages to provide heat even when wet.
The right backpack
The right backpack is compact because if it's too big the tendency will be to inflate it and should have adjustable straps as well as good storage. It is also important that the backpack is reinforced in the back and that it has abdominal and chest straps for a secure and comfortable fit.
In the rainy months, it is important to think about protecting your backpack with a waterproof cover, although some backpacks already come with an integrated cover.
Kit S.O.S
Forewarned walker counts for two. In fact, on a hike or trekking, having a small SOS kit can be a real life buoy, but what to include in the kit? Nothing that can't be fixed easily! Probably, many of these items are kept there at home:
more common medications, plasters for shoe injuries, and saline to clean a scratch;
a detailed map of the location and a compass;
a charged mobile phone, useful emergency numbers and a power bank;
trekking lantern and a headlamp;
a knife or a pocketknife, a whistle and a survival blanket.
Walking sticks as hiking essentials
The walking sticks are one of the trekking and hiking essentials and can make all the difference along the way. These give rhythm to the stride, help with impulsion, balance and distribute the weight so as not to overload the muscles and joints of the lower limbs. Even though it seems unnatural at first to walk with the sticks, you quickly feel the benefits.
A bottle of water and proper meals
Proper hydration and keeping a track of your nutrition is a priority when you spend hours or days following tracks. It is essential to keep your body and mind at 100%.
That's why it's imperative not to forget the water bottle, preferably light and durable, with a good capacity, a practical carrying handle and a completely watertight screw cap to prevent wet backpacks and accidental spills.
For adventurers who want to start hiking frequently and discover trekking, it is important to think of all the hiking essentials for walking and trekking. For all occasions, it is necessary to be prepared!
---
About the Author
Qurat Shahzad
Qurat-ul-Ain is a dedicated writer who likes to write anything and everything.