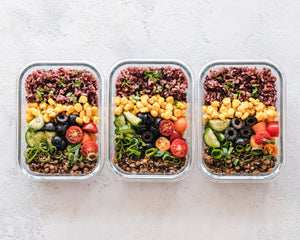 HERE IS WHY MEAL PLANNING IS JUST AS IMPORTANT AS YOUR WORKOUT PLAN
Whether you want to lose or gain weight or simply stay fit, meal planning is always an important part of your fitness journey. If you set your fitness goals and plan to achieve them while staying on the right track, the first thing you should do is plan your meals out. 
You can make weekly or monthly plans according to your lifestyle  and whatever you believe  is easier for you to stick to. People usually go overboard with their diet plans that they, eventually stop following because it gets too hard for them. So, make sure you keep your plans realistic and something you can actually follow. 
So, is meal planning that important?
A lot of people tend to neglect meal planning and think just working out will help however, that might not be as effective as it would be if you follow a proper meal plan, as well. To help you get a better understanding. Here are some health benefits of meal planning that will convince you to sit down and draft a monthly meal planning chart: 
Meal planning teaches you portion control! 
Portion controlling is a very crucial step towards getting fit. If you are eating less or more than you should be consuming, you might get in trouble. Eating more than required food can cause low blood sugar. 
All the food we consume is converted into glucose by our body, so when we eat a larger portion, the glucose level of our body rises and the pancreas release a higher amount of insulin. The high levels of insulin causes low blood sugar levels; this eventually leads to us feeling like we need more glucose and it is then that we crave sugary food more than ever. If this makes sense to you and you find it relatable, you surely need a portion control plan and it's the best time to do it! 
Waste less, save more!
Meal planning helps you in wasting less food, money, and even your precious time. If you have your meal plans ready, you won't have to waste time thinking about what to eat or cook while looking idly at your fridge and grocery cabinets. If you know what you need to have, you'll whip it up in minutes! 
Furthermore, when you know your portion size, you will be more vigilant while cooking and you will only make what is required, which means no more wastage of food. Isn't that great? We are not even on the best part: saving money! Meal planning is like healthy eating on a budget. 
If you are on a weight gain mission, you need to know how many proteins should go in your body and this also can only be achieved with proper meal planning. If you still haven't planned your meals, this might be the right time to dive into it!  
We hope this blog has helped you to understand why meal planning is important as it comes with more benefits than you think. Good luck 😊
---
About the Author
Wolph UK
We bring you informative sports & travel tips, to help you stay active and achieve your lifestyle goals.