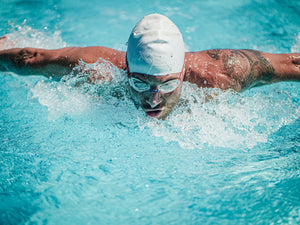 EASY WAYS TO STAY SAFE IN WATER SPORTS
With approximately 17 million people engaged in some form of water sporting activity, about 35,000 water-related rescue events are annually reported in the UK. In water sports, facial injuries, aspiration pneumonia and fractures of the upper extremities are mostly noted. 
Though within this magnitude, most water sporting activities are considered as 'low-risk' when it comes to fatal incidents. This is generally owing to the awareness regarding standard precautions, ample availability of safety equipment and adoption of guidance provided by experts. 
Even acknowledging voluntary risks involved in water sports, we all understand that sometimes minor injuries could leave lasting effects on one's life. Let's try to look at some of the basics on how to stay safe in water sports:
Use of Safety Equipment
Watersports ask for skills and safety to deal with motion, wind, vibration, sun and spray. In some equipment stores, we now find trained sales staff, which can help you in making the right decision. This experience is enhanced while shopping online nowadays, as you can remotely connect with experts and get the exact match according to your needs. Safe participation requires that you are aware of the segmentation in the watersport equipment market. 
While looking for watersports equipment, you need to know:
the watersport equipment type that you need(waterproof clothing, swim fins, life jackets, goggles, buoyancy control devices, swim mask,

latest fitness tracker

, safety helmets, etc.),

your size or age group (kids, adults, and geriatric)

watersports safety requirements from local governing bodies
Most companies are now producing safety gear that uses latest technology. Gear innovatively incorporating the internet of things in it not only increases the efficiency but such features also enhance the safety during the sports.
It is best to purchase new equipment with automated technology. In a nutshell, safety gear is essential in watersports and is medically recommended as well.
Safeguards to Stay Safe in Watersports
In medical reports, a sports injury is seen as a finale of a chain of events (pre, event and post). And similarly, the precautionary measures are studied on the basis of being primary, secondary and tertiary.
Injury safeguards in water sports rely on the use of the guidance provided by experts and regulatory bodies in each of the precautionary measures adopted at each level of the event. For instance, guidance is available on wearing of correct buoyancy aid, sizes of lifejackets, participating in training sessions and what communications equipment should be used where. 
Watersports participation survey, conducted in 2018, showed that the number of paddlers in water has constantly grown, and similarly, a number of agencies have produced their guidelines (e.g., Paddlesafer). In order to stay safe in the water, it is most important that one seeks and remain aware of the safety guidance and training available.
It is important to note that sports played in natural water environments (freshwater or ocean) also include additional risks of environmental and infectious hazards. Therefore, it is always important that you do not plan anything spontaneously and understand how to stay safe in watersports. 
Your decision and level of involvement in watersports should always base on your abilities and the equipment available. It is easy to stay safe in water sports if you practice caution. Last but not least, consuming alcohol or narcotics always affects one's judgement and should be discouraged before watersports.
---
About the Author
Qurat Shahzad
Qurat-ul-Ain is a dedicated writer who likes to write anything and everything.