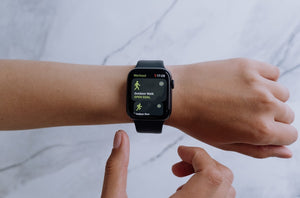 HOW TO USE THE LATEST FITNESS TRACKERS TO THEIR FULL POTENTIAL
Nowadays, the markets are flooded with a dizzying number of options of fitness tracking wristbands. New brands are emerging every day and are constantly coming up with different and better models of the latest fitness trackers. This not only makes it challenging to choose the best fitness tracker but also makes understanding the features a complex task. 
The potential of a fitness tracking wristband 
The latest versions in the markets offer sleep tracking along with step-counting; they have built-in pulse checking monitors and sensor boosting. A lot of the most recent hybrid wristbands have GPS as well as mobile phone notifications, which not only makes them fitness bands but also smartwatches. 
All of these features get a bit overwhelming for beginners who are still trying to figure out how to use the latest fitness trackers, but once you get the hang of it, you will really enjoy these features. 
What is a fitness tracker? 
There are many factors that influence the decision to wear a fitness tracker. The basic purpose of a fitness tracker is generally to track a person's everyday physical activity, such as steps, calories he or she burns over the course of a day through physical movements. 
In most trackers, you initially set a goal (or ideal target) of your activity and it comes up with statistics indicating how much you were able to achieve during the day. However, there are multiple misconceptions about fitness wristbands, mostly because of the promises and opaque language from some manufacturers.
While the majority of fitness tracking gadgets can easily track physical activity (like steps taken), they are not proficient at tracking sport-specific advanced metrics. For example, people who practice Pilates, or dancers and swimmers will only get a tracking report of their pulse rate or how many calories they burned, but their performance drop cannot be tracked accurately.
Some other misconceptions revolve around running and bicycling. No matter how much the manufacturers of a fitness tracker claim to report your distance or pace, accuracy is not possible without GPS connectivity. The more up-to-date models offer GPS, which helps in more precise position tracking. 
How to use the latest fitness trackers? 
The basic recommendation for use is to keep the gadget well adjusted to the wrist but avoid causing any hindrance. Just above the "wrist bone" (ulnar styloid process) is an ideal location. For the heart rate function, almost all models work with a method called photoplexysmography ( essentially, lights) that measure changes in your blood flow. A light shines over the top of your wrist and illuminates the capillary veins just below the skin, detecting changes in the light's reflection.
Strap models use electrical transmission, like ECG (electrocardiograms). They also let you know that results are most accurate when you are already warmed up and that to increase accuracy, you should stay put until your heart rate is detected. If the exercise can change the position of the wrist, then light models tend to be less accurate than strap models.
Why wear a fitness wristband? 
It is always recommended to use a device that monitors at least your heart rate while exercising. The reason is simple: it is safer for two main reasons:
From the point of view of cardiovascular health - We can know how much physical exertion relies on our heart's performance. So, it is best to adjust the intensity to the levels recommended by the doctor before you set it up.

From the point of view of exercise effectiveness - We know that the efficiency of an exercise more or less relies on the intensity the activity is performed with. The intensity, in turn, varies depending on the objective, physical condition and medical recommendation. So, adjust the intensity by monitoring the heartbeat.
The latest fitness trackers are sleek gadgets that are capable of measuring fitness stats 24 hours a day. Indeed, these devices are a revolution for the health sciences. They make our lives easier as they register, guide and let us know if we are failing to reach our fitness goals.
If you know the purpose for which you are going to use your fitness tracker, this makes a choice easier. Make sure you discuss your demands clearly with the seller or carefully read the manuals and see what the tracker can offer you.
Best of luck on your fitness journey! 
---
About the Author
Qurat Shahzad
Qurat-ul-Ain is a dedicated writer who likes to write anything and everything.