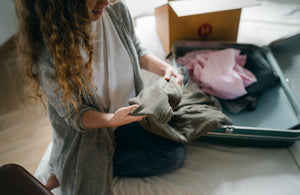 THE ONLY TRAVEL PACKING ESSENTIALS LIST YOU WILL EVER NEED
As the summer holiday season (& the pandemic) rages on, a lot of people start thinking about spending time with our loved ones; family and friends. Studies have shown that family is a key element of your happiness, especially in times like these. 
However, in some cases, this means you may need to travel to visit them. So, herein comes the quandary, every traveller have had to grapple with since the dawn of civilization… What do I add to my travel essentials list?  
A lot of people tend to go overboard when it comes to packing, especially if a past travel experience didn't go too well. If you are on the same boat and you're suffering from a case of travel ptsd , we have a packing list that will help you get rid of all the extra baggage and anxiety.
Packing travel essentials list:
You need a decent-sized backpack to fit all your stuff into. It should be big enough to hold your necessary items as well as some of your random things like a novel that you think would be a good company. 
A separate pair of walking shoes:
Walking is a great way to keep your body energised throughout your trip, and needless to say, it comes with a lot of benefits. In addition, you can save all your cab money if you decide to walk instead. 
Many people forget to add toiletries to their travel packing list. You want to make sure you pack your toothpaste and all other oral hygiene tools so that you can smile confidently.
According to a study, smiling has a great impact on uplifting your mood, so you definitely need your toothpaste for the gloomy hours! 
Yes, that's right! Even if you don't do yoga or any other type of workout, you should still carry a yoga mat. If you find a beautiful spot with a tremendous view, you can lay out your mat and meditate or simply enjoy the view. Meditation has been scientifically proven to be beneficial for our physical as well as mental health. People who meditate are less likely to end up at mental health hospitals. 
Metal water bottles and metal straw:
This is the most important thing - maybe not for you but definitely for the environment. You definitely don't want to play your part in the immense non-biodegradable plastic waste that ends up in our oceans and affects our natural habitat. Every year, millions of wildlife suffer because humans are now insensitive to the adverse effects of plastic. It is one of the major causes of pollution and it is high time we travellers step-up and play our part to put a full stop to the disposable plastic epidemic. 
There is always a chance of medical emergencies on trips, so you need to go well-prepared. Make sure you have your first-aid kit ready in your backpack to travel with you. 
This travel essentials list is different from most lists on the internet today. It tells you all the things you are most unlikely to pack but will end up needing at almost every step of your journey. We hope this proves helpful for you. Best of luck on your new journey! 
---
About the Author
Qurat Shahzad
Qurat-ul-Ain is a dedicated writer who likes to write anything and everything.