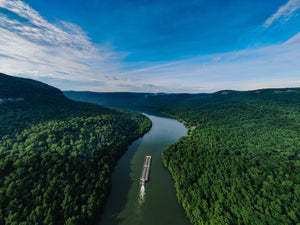 The Amazon Rainforest: A Paradise for Adventurous Travelers?
The Amazon Rainforest, an ecological wonder of unparalleled magnitude, beckons travelers from around the globe. Spanning over 5.5 million square kilometers, this vast expanse of lush greenery is a sanctuary of biodiversity and natural beauty. In this blog post, we will delve into the wonders of the Amazon Rainforest, offering valuable insights and recommendations for intrepid travelers seeking a unique and unforgettable adventure.
Discovering the Enchanting Biodiversity: The Amazon Rainforest is renowned for its extraordinary biodiversity. Home to an estimated 40,000 plant species, over 3,000 freshwater fish species, and an astounding array of mammals, birds, and reptiles, it stands as a living testament to nature's ingenuity (Smith et al., 2003). From the iconic jaguars and vibrant macaws to the elusive pink river dolphins and colorful poison dart frogs, every step within this rainforest unveils new wonders. 

Ecological Significance and Climate Impact: Beyond its mesmerizing beauty, the Amazon Rainforest plays a crucial role in maintaining the global climate. As the "Lungs of the Earth," it generates approximately 20% of the world's oxygen (Malhi et al., 2008). Its dense vegetation acts as a carbon sink, absorbing substantial amounts of carbon dioxide and helping to regulate global climate patterns (Phillips et al., 2009). Exploring the Amazon Rainforest allows travelers to witness firsthand the intricate balance of nature and understand the importance of preserving this fragile ecosystem.

Indigenous Cultures and Ancient Wisdom: The Amazon Rainforest is not only a natural wonder but also a cultural treasure trove. Numerous indigenous communities have inhabited these lands for thousands of years, maintaining a harmonious relationship with nature. Interacting with these communities provides a unique opportunity to learn about their sustainable practices, traditional knowledge, and spiritual connection to the rainforest (Posey, 1999). Engage in cultural exchanges, participate in traditional ceremonies, and gain a profound appreciation for their way of life.

Exploring the Amazon River: No journey to the Amazon Rainforest is complete without venturing along the mighty Amazon River. Embarking on a river cruise allows travelers to witness the grandeur of the rainforest from a different perspective. Sail through winding tributaries, marvel at breathtaking sunsets, and listen to the symphony of sounds echoing through the dense foliage. Keep an eye out for playful river otters, graceful pink dolphins, and the iconic black caimans.

Thrilling Adventures and Nature Encounters: The Amazon Rainforest offers a plethora of adrenaline-pumping activities and unforgettable nature encounters. Strap on your hiking boots and embark on exhilarating treks through the dense trails, guided by experienced local experts who unravel the secrets of the rainforest. Marvel at the breathtaking flora, spot rare wildlife, and listen to the cacophony of tropical birds. For the adventurous, there are opportunities for canopy walks, zip-lining, and even night safaris to witness the nocturnal wonders of the rainforest.
Conclusion: The Amazon Rainforest is a haven for intrepid travelers, a place where nature's grandeur and cultural richness converge. It offers an unparalleled opportunity to immerse oneself in breathtaking biodiversity, connect with ancient cultures, and experience thrilling adventures.
---
About the Author
Wolph UK
We bring you informative sports & travel tips, to help you stay active and achieve your lifestyle goals.