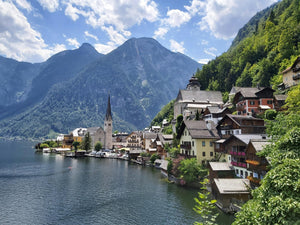 Winter Wanderlust: Embracing the Season with Scenic Destinations and Cozy Retreats
As winter rolls in with its chilly charm, a new world comes to life, weaving its spell on nature lovers and bold wanderers alike.
The cool air works its magic, turning ordinary landscapes into mesmerizing wonderlands. It's like an open invitation for those who crave adventure and want to discover the beauty of winter.
There's something special about winter travel, drawing us into snow-covered landscapes adorned with sparkling lights.
This article is your go-to guide for making the most of the season, as we're about to unveil five destinations that will steal your heart forever. So, are you ready to find some winter hidden gems? Let's roll. 
1. Hallstatt, Austria: A Fairytale Winter Wonderland
Hallstatt is tucked cozily by the crystal-clear waters of a lake, like a scene from a magical winter storybook. Stroll through the charming streets, where you'll find fairytale houses lining narrow cobblestone pathways while marveling at the snow-covered mountains.
Besides the scenic beauty, Hallstatt provides plenty of experiences for winter enthusiasts. From fun snowshoeing through idyllic landscapes to the joy of gliding gracefully on the frozen lake through ice skating, this place will charm you.
You could enhance your winter escapade with the warmth of Hallstatt's comforting accommodations, ranging from charming alpine lodges to boutique lakeside hotels.
Also, a good adventure travel in this place can't be complete without traditional Austrian cuisine, So make sure you enjoy hearty dishes that perfectly complement the winter chill.
2. Reykjavik, Iceland: Northern Lights and Thermal Spring
Reykjavik, the vibrant capital of Iceland, offers a distinctive winter experience filled with enchanting attractions. 
One of the highlights of winter is the awe-inspiring display of the Northern Lights. Delve into the ethereal beauty of these dancing lights and discover the best vantage points around Reykjavik for an unforgettable celestial spectacle.
Reykjavik's winter charm extends beyond the night sky, as the city is surrounded by geothermal hot springs that provide warmth and relaxation. You'll have the most relaxing experience ever. 
If you're adventurous at heart, the winter landscape opens the door to thrilling outdoor activities. You may embark on glacier hiking expeditions, where surreal ice formations and panoramic views await.
Moreover, you may feel the adrenaline rush while snowmobiling across pristine snowscapes. Nothing compares to an action-packed and memorable stay in Reykjavik. 
3. Saariselka, Finland: Lapland's Arctic Adventure
Saariselka serves as the wanderlust gateway to Lapland's winter wonderland, inviting visitors to embrace the magic of the Arctic. In this quaint village up north in Finland, the real gem is the Kakslauttanen Arctic Resort.
Imagine snuggling up in one of their many glass igloos, treating yourself to breathtaking Northern Lights views. If you're feeling more of a cozy, classic vibe, they've got log cabins for that. And for the adventurous souls channeling their inner Olaf, snow igloos are up for grabs.
So, whether you're up for a magical light show or want to keep it traditional, this place has you covered!
4. Prague, Czech Republic: A Blend of Winter Magic and History
The historical charm of Prague is breathtaking as winter blankets its iconic architecture. Explore the cobblestone streets that echo with tales of centuries past, providing a unique backdrop for your winter wanderings. 
If you think you've had enough of the winter delights from the Christmas market (to be honest, there's never enough roasted ham, sweet pastries, or mulled wine), you can always start a new adventure beyond the city limits.
Old Prague offers access to winter sports and recreational activities like skiing or snowboarding. While exploring snowy slopes, you should admire the scenic landscapes worthy of a postcard picture.
5. Sibiu, Romania: Transylvanian Charm in the Snow
Sibiu, with its medieval appeal, has become a captivating winter destination for players worldwide. While delighting yourself with the slow Transylvanian life, you will have the chance to enjoy the festive spirit through its vibrant Christmas markets and local traditions.
Beyond the traditional customs that you'll find absolutely fascinating, Sibiu is a place for those ready for an off-the-beaten-path adventure. Rent an off-road car and start venturing on the forest trails of the Carpathian Mountains.
Enjoy the crisp mountain air and feed your soul with a breathtaking view. Who knows, if you're lucky enough, you can even see the curious bears? That sounds like a thrilling adventure!
---